TGIF friends!! :) I have a lot coming at you today, so sit back and enjoy the ride :)
If you haven't heard of
Miss Squirrels
then I'm going to guess you've been living under a rock. No, really, she is a bloggy-bestie of mine and it's not just because we have the same name! haha :) She is having a giveaway once she reaches 250 followers (only 8 more to go!) she is hosting a giveaway and has asked me,
Reagan
, and
Holly
to join in. (I must say, I'm honored to be a part of this with these amazing bloggers- they are def. in my top fav blogs!!!!) Anyway- follow that little nut Miss Squirrels and let's get this party started!!!
In other news... I've decided to join up with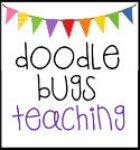 to do 12 on the 12th. It's 12 pics of your day on the 12th. Well, I'm a day late and a dollar short... but I can still link up, right? Sure I can :) So here you go... my 12 on the 12th.
1. Woke up and ate breakfast. Here's my Henry (youngest) eating awfuls and benas. (That's Henry-speak for waffles and bananas.)
2. I filled my sensory tub with Easter eggs. They get to hide things in them for their center partner to find... things like money, letter tiles, unifix cubes, pattern blocks...
3. In Religion, we are learning about the 12 disciples. In Matthew, Jesus makes them fishers of men. We made fishy faces and acted out how to be fishers of men (using kind words, helping a friend, doing what's right...). I decided a man hanging from the end of the fishing pole wasn't a great idea, so I used this one instead. The kids LOVE glitter (and well, really I do too- so it was a win-win!) so when you put anything with glitter, it's automatically an engaging activity!
4. We start our week long pop tabs war this coming week. My Kinder parents were ahead of the game and already sent some in- so we almost have our first tub full already!!
5. I ate a Reese's peanut butter egg. These are my favs- yum. My mouth is watering for another right now.
6. My class just finished reading The Mouse and the Motorcycle. This group of kids have been so interested in chapter books. I've read them Mudshark, Judy Moody, and The Mouse and the Motorcycle. I'm wondering if we have time for another one before summer hits.
7. Ran to town to pick up microphones for our junior high musical. We are doing Annie, Jr. It's shaping out to be really cute!!! I'm excited. It's this coming Thursday and Friday nights.
8. Worked on a few projects for my photography hobby.
9. I may, or may not have eaten another Reese's peanut butter egg. I'm tell you- I live for Easter so I can have me some peanut butter eggs. I heard they made peanut butter BUNNIES!! I need to find them!
10. Played with my boys for a bit. I think I just realized something... I've never shown you pics of my boys. (have I??) Well, without futher ado- here's my boys, Wade (left) and Henry (right). No- they aren't twins. They are 2 years apart!!! Henry is just a BIG MAN!!
11. My town has an auction every Thursday night (I don't go every week, just when the mood strikes me), so I went with my mom and dad while Ben stayed home with the boys. I walked away with an old wood bat for Wade and Henry and 2 camping lanterns. My mom and dad bought my family a state park pass- so we plan on camping it up this spring/summer- so I thought they were good picks! I dont have a pic of the actual loot I got, but here's where I went.
12. And to cap off the night, I went home, snuggled in bed to read my newest addiction (besides peanut butter eggs...) with Ben while he watched TV. I'm at the "tick tock" part. I CAN'T PUT IT DOWN!!!!!!!!!!!!!
So, there, now go link up too- even though you're late like me!
Oh, and one last thing- hop over to
and leave her a comment on her Community Unit giveaway. The first 5 get it for free- and I'm going to be #1- so hurry before they are all gone!