We are learning about symmetry in math class and we usually just paint on side of a paper and then fold the paper over to duplicate the painted picture to show symmetry. Well we decided to do something different this year- and I think they turned out really cute!!!
Super Simple (which is what I like!) Fold a piece of construction paper in half. Cut, Snip, Trim to your little heart's desire. Open, and viola- symmetry! Glue the paper onto a different color piece of paper to make your symmetry pop! Here are some samples:
There you have it! Super. Simple. Symmetry.
And, don't forget once I reach 200 followers, we'll get this groovy giveaway going. Do you want more hints?
Since my post was about math, how about this addition problem as your hint for today:
What do you get when you add:
+
+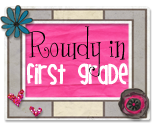 +
EQUALS= ONE GROOVY GIVEAWAY! So, pass the word along- and let's get to 200 and get this show on the road!!!